Student, doctoral student, alumni, are you looking for a job or advice concerning your professional life ? Boost your career by participating at Forum ON! : the only Brussels forum for the first job for higher education graduates !
"ON! 2021" is now over: thank you all for your very active participation in this 10th edition of the Brussels First Job Forum !
The ULB indeed hosts the first job forum "ON!" every second Wednesday in October, the Brussels job fair for (future) higher education graduates (1st, 2nd, 3rd cycles).

Find your way thanks to the Forum "ON!"
(and don't hesitate to show the way around you ...)
Place
The "ON!" Forum virtual will be accessible from your home (or elsewhere) !
Program
On the program for this day (from 11 a.m. to 5 p.m.):
Possibilities of virtual meetings with a hundred recruiters and employment or mobility advisers
Job and internship offers available for positions in Belgium or abroad in many sectors
Several thematic conferences and methodological workshops (CV and cover letter, research, job coaching, discovery of certain jobs or professional fields, etc.)
The possibility of having mini-live job interviews with certain employers
Talent networking opportunities
Inscription
Registrations for Forum ON! 2021 are over, see you for the 11th edition on October 12, 2022 !
Not only will it be open to ULB students and graduates, but also to students from other universities and higher education institutions !
Do you have any question ? Do not hesitate to contact us : infor-emploi@ulb.be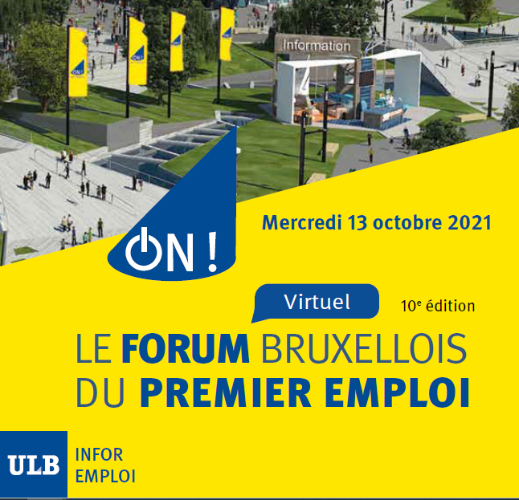 Advices
To boost your chances of landing a job on the forum, consider these tips:
Before the forum
Pre-register for the Forum (from September 1)
Discover the support services ready to advise you
Write a solid CV and save it to your Career Center !
Target the companies and positions that interest you
Choose the conferences and workshops that interest you
Make sure you have a working microphone and camera
Prepare your personal presentation
Prepare for potential virtual job interviews
During the forum
Adopt a professional attitude in all circumstances
Prepare for a possible videoconference with recruiters
Take care of your business card to leave to recruiters on virtual stands
Have a CV in PDF format to send to the companies
Contact recruiters by leaving a message on the virtual stand
After the forum
Follow up on your application!
Re-contact recruiters to whom you have left a CV
Monitor your emails for possible responses from recruiters
 Get the best out of the way before the forum!
ULB students / Alumni: do not miss out participating in our preparatory sessions, which will equip you with the best tools to get a job during Forum ON!


Organizations which were present in 2021
Testimonials
Find the testimonials of participants in the latest editions by
clicking here
Updated on January 17, 2022